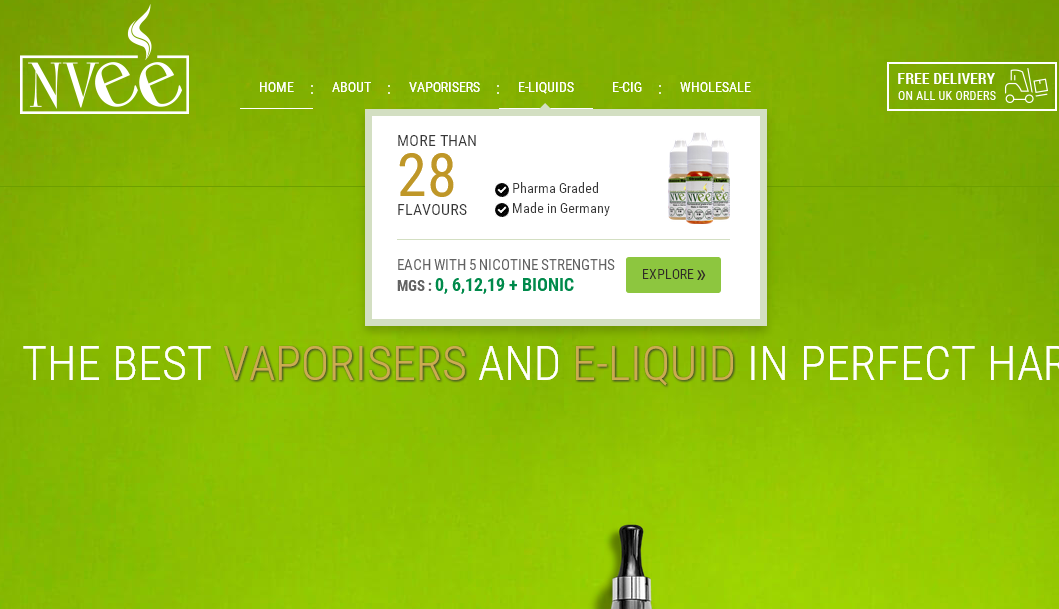 Nvee Ecigs – New Voucher Code
Company Description:
NVee, not just another E-Cig brand, this is a brand with passion and desire. A desire to produce the highest quality Electronic Cigarettes and peripherals in the market place. A passion to strive for this goal without compromise.
At NVee we let our products do the talking, sourced from only the best manufacturers across the world, our disposable cigarette is not only one of the most keenly priced in the UK, it also lasts longer than other brands and has a smoother more refined taste. But don't let us tell you. Try for yourself, we are positive you will not be disappointed.
Our E-Liquids are all sourced from the highest quality manufacturers in Europe. This may mean greater cost to us as the supplier but we don't pass that to our customer, the only thing we pass to our customer is the quality of the product and knowledge to know these have passed the most stringent of EU testing. So why not experiment with our myriad of flavours.
Vouchercode:
NVEE – 20% OFF DISCOUNT
20% discount on all items
Terms and conditions: Expires 30th Sept 2015
Code: INTRO
Valid: 27 August 2015 – 30 September 2015
URL: http://nvee.co.uk/
Category: Health & beauty, health, healthcare,supplements
Programme:
20% for every valid sale!
Sign up HERE
PPC: Brand Name Bidding restrictions apply to this programme. Affiliates cannot bid on the brand name, derivations or misspellings.