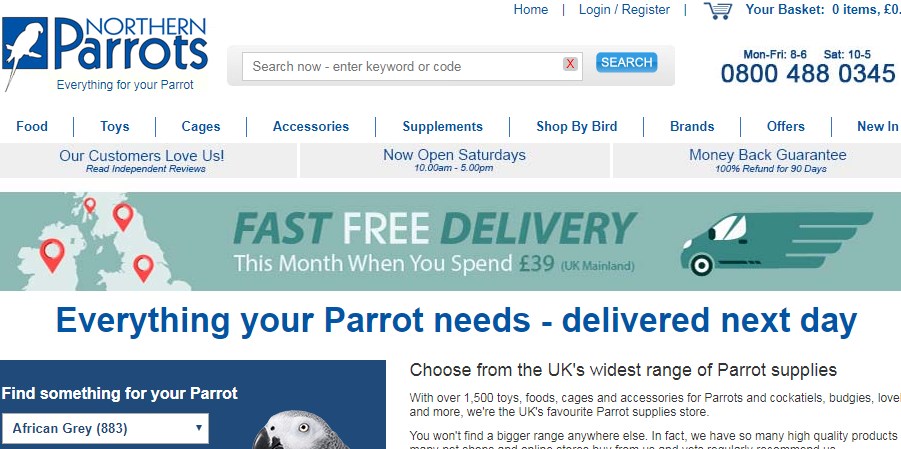 Northern Parrots celebrates African Grey Day
October 11, 2017

/

By:

Kenny

/
Dear publisher,
Northern Parrots and the Parrot world are celebrating African Greys on the third African Grey Day on October 12th.
African Greys are the most popular companion Parrot, and on this day African Grey owners post their favourite pictures of their bird, share interesting facts and stories and a lot more.
Also to celebrate this special day there will be four special offers running until 11.59pm on Thursday October 12th.
The delicious Palm Nut Fruit Extract Oil treat was £4.99, but is now reduced to £3.99.
The tasty complete food, El Paso and Sunny Orchard NutriBerries, were £34.99 but are now discounted to £24.99.
The Snack Trays and Refill, an exciting foraging toy, are usually £24.98, but have been slashed in price to £15.98 for African Grey Day.
The Bamboo Foraging Perch was £9.99, but now has a 30% saving and is now £6.99.
For more information please go to www.northernparrots.com or email affiliate@northernparrots.com
Company Profile:
Northern Parrots sell the UK's largest range of food, toys, cages and accessories for Parrots and smaller pet birds.
We have all the major brands of food, treats and supplements, hundreds of fun, exciting toys, a huge range of cages and much more – in fact Everything for your Parrot.
We deliver fast – most orders are despatched the same day and delivery is free over £39.
Please note – no PPC allowed on brand name, domain, 24parrot, derivatives or misspellings.
Affiliate Programme Details:
4.0% up to £499.99 Nett per month
4.5% up to £1499.99 Nett per month
5.0% up to £2999.99 Nett per month
6% over £3000 Nett per month
We have a tiered commission structure to make sure we reward our most committed affiliates.