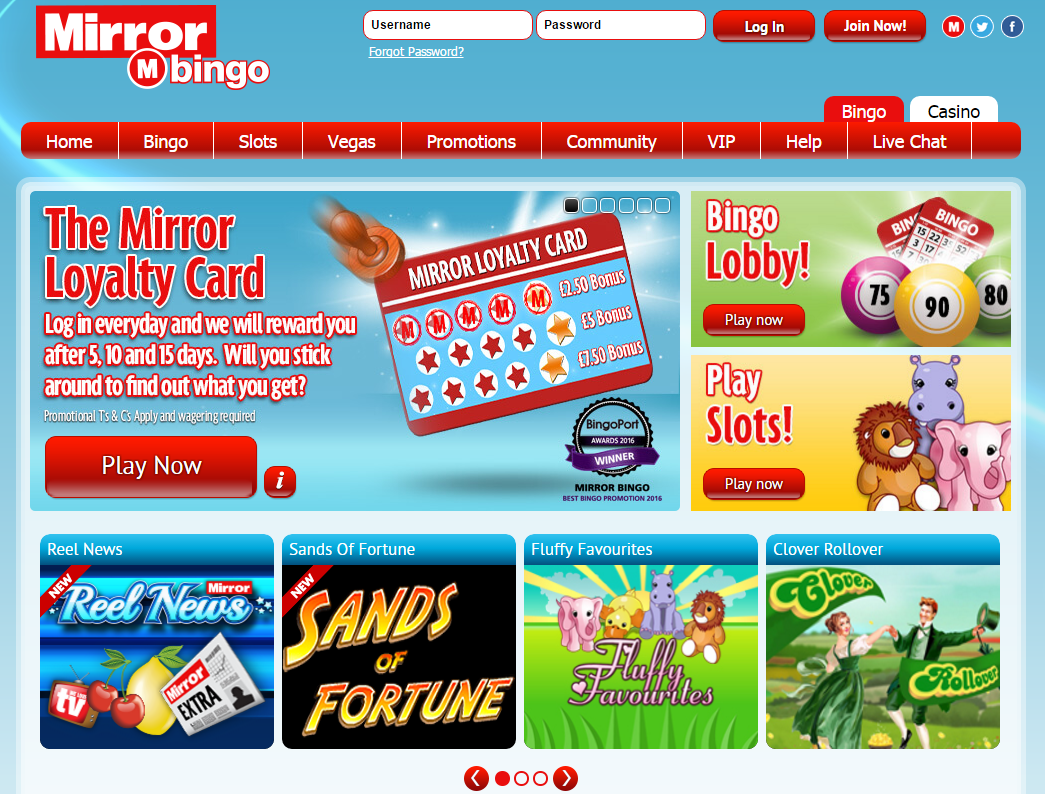 Mirror Bingo are now live on Affiliate Future!
Company Description
The Mirror one of the UK's most iconic news brands, is delighted to bring you a fantastic gaming experience.
The Mirror's publisher, Trinity Mirror, is one of the largest multimedia publishers in the UK. Our story is one that has evolved over time, beginning with just a single local publication, in 1832, to grow to a portfolio that now spans the country and our publications, websites and digital services bring news, entertainment and new opportunities to local, regional and national audiences every day.
With the Mirror's gaming brands you can expect:
• The very best online bingo games available, with thousands of players, lively and friendly chat, and huge prizes that anyone can win
• Exciting casinos games including old favourites like roulette and blackjack
• Lots and lots of slot games featuring well known brands and characters, and huge progressive jackpots
• Played your way, on desktop, tablet and mobile
Keywords
Gambling,Gaming,Betting,Games,Mirror Bingo,Mirror,Bingo,Casino
Categories
Gambling / Bingo
URL
http://www.mirrorbingo.com/bingo 
Programme
Non-Incentive affiliates only
Commission: Affiliates will receive £50 for each new unique player who signs up, deposits and wagers the minimum of £10.
Please note:
– This is for Non-Incentive affiliates only. If you are an Incentive affiliate, please ensure you are signed up to the Incentive programme.
– Commissions are not reported in real-time and are applied to affiliates accounts once confirmed which can take up to 5 days.
Sign up HERE
PPC
Brand Name Bidding restrictions apply to this programme. Affiliates cannot bid on the brand name, derivations or misspellings.