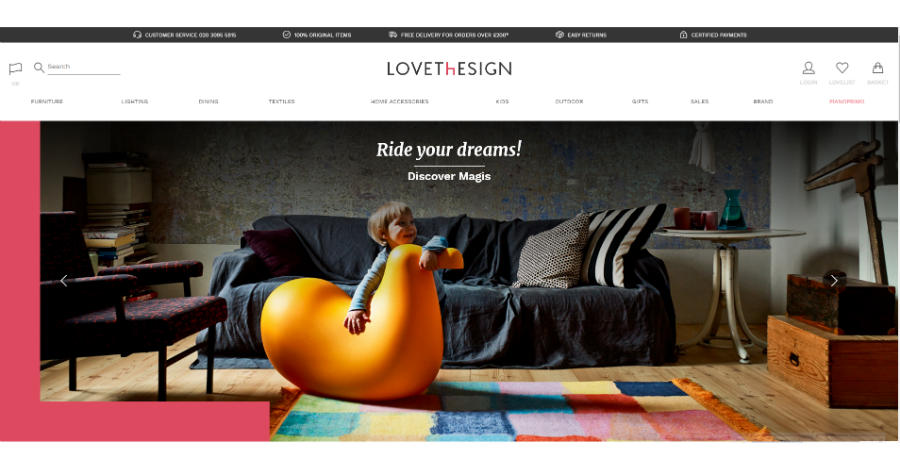 Company Description:
LOVEThESIGN delivers a unique shopping experience. Discover the finest design furniture, top quality lighting and exceptional outdoor designer furniture. We are passionate about design, aiming to offer a unique selection of modern, beautiful and cutting edge products, from well-known brands to great artisans.
We are one of the most and fast growing startups in Europe. Everyday hundreds of Happy Customers are buying on our site a selection of more than 3000 home&living accessories and branded design pieces. As member of the program, you can earn commission when your visitors join our site or buy from our website: www.lovethesign.com/uk.
 Category: Home and Garden
Keywords: gifts,Wallpaper,Vases & Garden,Throws-blankets,Stickers,Pets,Organisers & Space-savers,Home Accents,Doormats,Decorative accessories,Cushions,Clocks,Candle Holders,Bins,Art&Prints,Wardrobes & bookcases,Toys,Textiles,Stickers,Rugs,Prints,Cots & Beds,Changing Mats & Bedside Tables,Chairs & Ottomans,Wine & Cocktails,Utensils,Trays,Textiles,Tea & Coffee,Serving dishes,Salt & Pepper,Oil & Vinegar,Glassware,Cutting Boards & Knives,Cutlery,Crockery,Centrepieces,Bowls & Containers,Wall Lamps,Table Lamps,Pendants,Floor Lamps,Umbrella Stands,Trestles for tables,Storage Units & Magazine Racks,Shelves & Modules,Screens & Room dividers,Rugs,Mirrors,Coffee Tables,Coat Racks & Hooks,Bathroom Accessories,Tables,Storage furniture & TV stands,Stools,Sofas,Sofa-Beds & Chair-Beds,Ottomans & Futon,Organic Fireplaces,Desks,Design week,Chairs,Bookcases,Bedside Tables & Chests of Drawers,Beds,Armchairs & Chaises Longues
Programme:
BENEFIT OF JOINING US…
•    10% CPA on net sales, excluding shipping, taxes and returns
•    Reward affiliates for higher performance by paying:
•    £2,000 order value  per month – 12% CPA
•    £5,000 order value per month – 15% CPA
•    Eligibility for commission on sales originating from your site within 30 days
•    It's free to join
•    Regular newsletter letting you know about new products and promotions
•    Vouchers and Cashback available
•    Access to reporting and sales tracking
•    30 days cookie window
WHAT WE OFFER MORE?
Customised creative that perfectly fit your brand and your style. We will need to approve your website before you join.