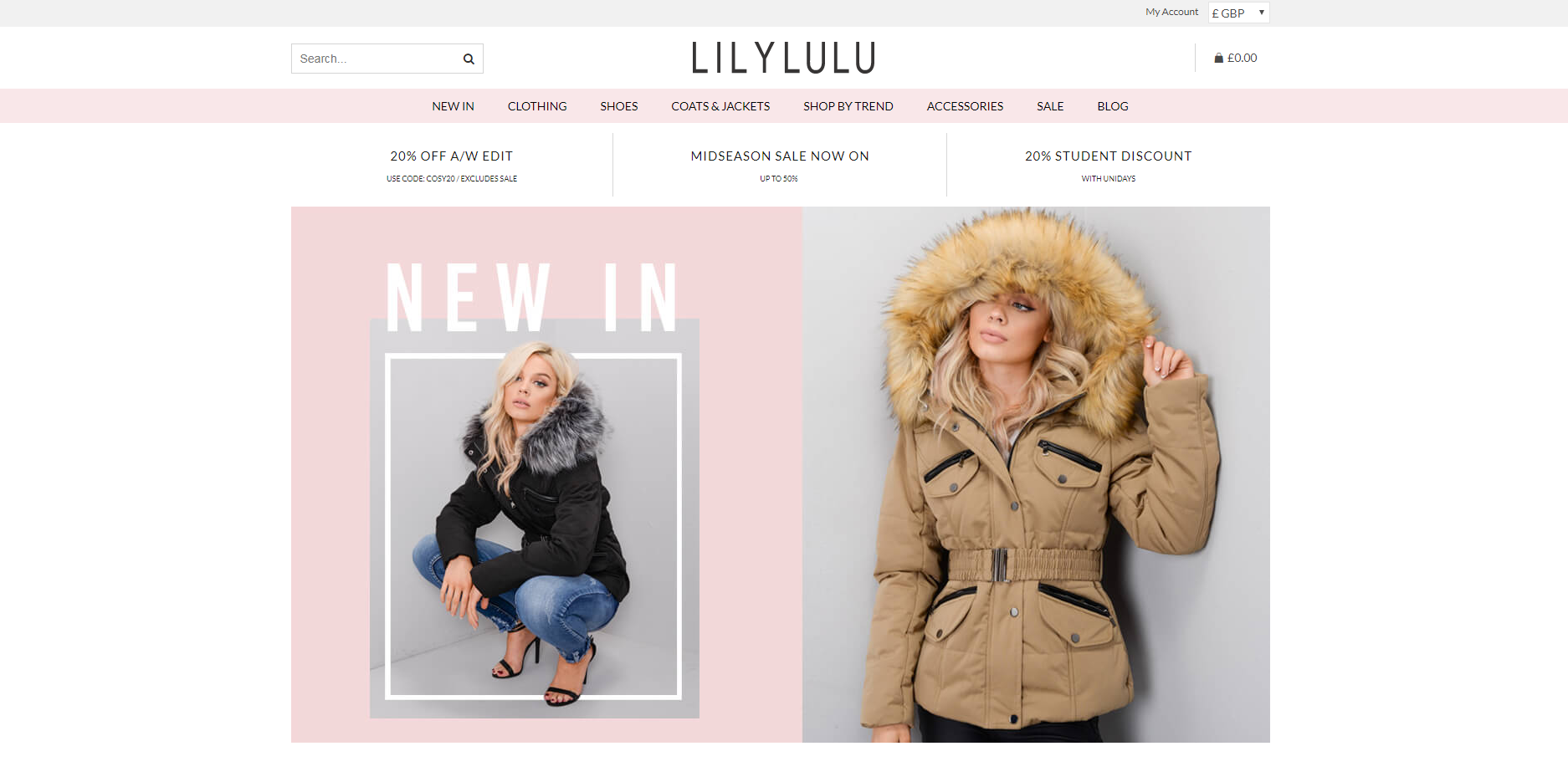 Lily Lulu Fashion are now live on Affiliate Future!
Lily Lulu Fashion
Company Description
LILY LULU FASHION is an online fashion retail store, bringing the freshest styles and latest trends to women around the world. Their brand incorporates a range of styles; from pieces perfect for party wear, to cosy comfort clothes for cold weather and everything in between! No matter what you're after, they are your go-to page for new season must-have staples. LILY LULU FASHION is about keeping on trend, looking fashionable and enjoying yourself at the same time! You can also find @lilylulufashion on FB, Insta, and Twitter
Keywords
lily lulu fashion,lilylulu,fashion,lily,lulu,clothing,clothes,womenswear,lily lulu,shoes,footwear,lilylulu fashion,coats,boots,jackets,uni,university,dresses,sandals,jeans
Category
Retail / Fashion
URL
https://www.lilylulufashion.com/
Programmes
Why Join Lily Lulu Fashion's affiliate programme?
LILY LULU FASHION is an online fashion retail store that offers the latest styles and trends to women around the world.
Established since 2012, we've grown into a popular online boutique for women.
All our items are very competitively priced and our website www.lilylulufashion.com is mobile friendly and updated constantly with new arrivals. We have a High Conversion Rate and our Average Order Value of £40+ is higher than most of our competitors. As a result, our sales has been consistently increasing year on year and we want you to be a part of this by joining our affiliate programme!
If you have any queries about our programme, please contact us at vincent@lilylulufashion.com
Programme benefits:
Earn 10% Commission on sales, with increases available for additional exposure
Commission is ALSO paid on VAT AND delivery.
Cookie Length: 30 Days
Datafeed: Product Range Updated Daily
Banners: Range of effective banners available
PPC Policy: Closed PPC policy Brand Name Bidding restrictions apply to this programme. Publishers cannot bid on the brand name derivations or misspellings. Affiliates are not allowed to use similar domains.
Sign up HERE
For more information please contact Nayeem.Chowdhury@affiliatefuture.co.uk
Kind Regards,
Affiliate Future!