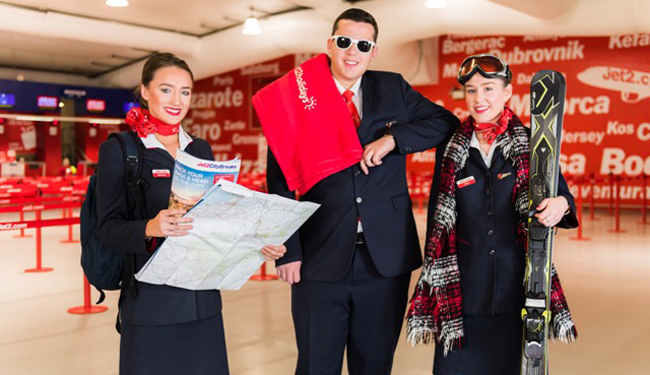 JET2.COM and JET2HOLIDAYS: Biggest ever Winter Programme is now on sale!
This week is another step in Jet2.com and Jet2holidays' ongoing expansion, with the launch of their biggest ever winter flights and holidays programme for 2017/18.
Jet2 are adding over ONE MILLION EXTRA SEATS on their Winter 17/18 programme, with 11 brand new routes, more flights and extended season lengths to popular destinations. As of today, a total of 3.3 MILLION seats are now on sale to a choice of 30 winter warmers, cool cities and super ski destinations across the Mediterranean and Europe, which represents a massive 45% growth.
The programme means Jet2holidays is offering its largest ever winter range, and with everything wrapped up in one package, holidaymakers have access to great value package breaks across thousands of 2-5 star hotels, with Jet2.com flights, industry leading 22kg baggage allowance and airport transfers included, through a £60 per person deposit. Offering full ATOL protection, Jet2holidays also includes free infant places on all holidays as well as 0% credit card fees.
11 Brand New Routes
Next winter will see their first ever winter services from two brand new bases, London Stansted and Birmingham. The Winter 17/18 programme also features 11 brand new routes, which are:
Genevaand Salzburg from London Stansted Airport
Madeirafrom Edinburgh Airport
Turinfrom Leeds Bradford Airport
Madeira, Grenoble, Geneva, Salzburg, Turin, Krakowand Prague from Birmingham Airport
Much More Winter Sunshine
Jet2's programme has more flights and holidays to popular sunshine destinations than ever before, with ONE MILLION seats to the Canary Islands alone. There are more flights and extended programmes to other top destinations including Alicante, Cyprus, Faro, Malaga and Palma, so holidaymakers have more opportunity than ever to grab some winter sunshine.
Biggest ever ski programme & Europe's best cities
The programme is not all about the sunshine. On the back of their biggest ever ski programme this winte, an additional 100,000 ski seats will be added to Jet2.com's Winter 17/18 programme. This includes four brand new routes from Birmingham Airport (Grenoble, Geneva, Salzburg and Turin), two brand new routes from London Stansted Airport (Geneva and Salzburg) and one brand new route from Leeds Bradford Airport (Turin).
The popularity of Jet2CityBreaks means more breaks to fabulous city destinations such as Barcelona, Rome and Venice are available next winter, including brand new routes to Krakowand Prague from new base Birmingham Airport.
This is the latest in a number of growth announcements that Jet2 have made this year. They have launched two new bases at Birmingham and London Stansted Airports, along with the purchase of 30 new Boeing 737-800 airplanes and the creation of around 1,000 new jobs. In addition to today's announcement, Jet2 launched their biggest ever Summer programme for 2017 earlier this year, and the accolades have been pouring in, with Jet2.com been voted the 'UK's Top Airline' and 'Most Loved Airline' by users of TripAdvisor and Skytrax respectively.
Steve Heapy, CEO of Jet2.com and Jet2holidays, said: "This is a very exciting time for Jet2.com and Jet2holidays and today's announcement is yet another step on our ambitious growth plans. Following our recent expansion into Birmingham and London Stansted Airports, we're continuing to provide holidaymakers with more choice than ever, thanks to our biggest ever winter programme. This programme gives Britons more opportunities to visit their favourite sun and city destinations all-year-round, as well as more choice for hitting the best slopes in Europe. With the increased number of flights and holiday options available, we're delighted to offer customers the chance to enjoy the best that Europe has to offer on our award winning airline."
SIGN UP TO BOTH JET2 PROGRAMMES BELOW
You can sign up to the Jet2.com programme here: http://afuk.affiliate.affiliatefuture.co.uk/merchants/AddProgramme.aspx?id=3291
You can sign up to the Jet2holidays programme here: http://afuk.affiliate.affiliatefuture.co.uk/merchants/AddProgramme.aspx?id=2401
Additionally, if you have any questions or would like to discuss promotional opportunities, please contact Bhavesh on bhavesh.patel@affiliatefuture.co.uk
Kindest regards,
Affiliate Future/ Jet2