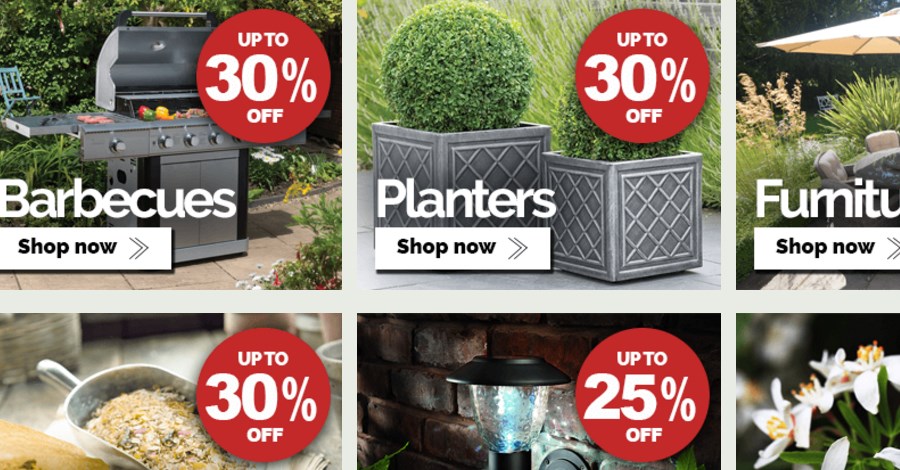 Great Little Garden – 6% commission increase in June
Summer Holidays are just around the corner so why not spruce up your garden so your children can have picnics outside with their friends? Or perhaps make the garden a safe haven for you and your other half with little summer houses and rattan garden furniture. Who said you can enjoy a drink outside!
Great news! We have increased our commission for our cashback publishers to:
5% Commission (base rate)
6% commission (if a transaction is over £250)
Please find some deals below and feel free to promote them on your website. We aim to provide the best products at an affordable price – just because you want quality it doesn't mean you have to pay a fortune!
Deals:
Half Price Mini Petunias
Get 5 half priced mini petunias. With its blooms of bluey-purple and free flowering habit. Baskets, pots, tubs, containers and not forgetting your beds and borders.
Valid: 28 June 2017 – 30 September 2017
Price Match Promise
PRICE MATCH PROMISE
WE WONT BE BEATEN ON PRICE!
Valid: 28 June 2017 – 30 November 2017
Lifetime Guarantee
Working closely with some of the best nurseries in the UK, we are justifiably proud of the quality of all our plants and offer a lifetime guarantee on "hardy plants"
Valid: 28 June 2017 – 30 November 2017
Pets and Wildlife products from as little as £2.49
A gardener is never alone in the garden. Wild birds, hedgehogs (if you're lucky) and all the beneficial insects accompany each and every gardener around the plot. And with little effort, all can be encouraged to set up home and thrive in the garden.
Valid: 28 June 2017 – 30 November 2017
Get Kids Out in The Garden with Garden games under £3
Fresh air, exercise and the chance to learn – a garden is the perfect place for children. Get your child out in the Summer sun and playing garden games, spending time in their playhouses or even helping around the garden.
Valid: 28 June 2017 – 30 December 2017
Please make the most out of this commission increase. We are in our peak period and are already seeing tons of sales coming though!
If you have any questions or ideas on how we can help you increase your sales please email our account manager.
——-
Chloe Smith