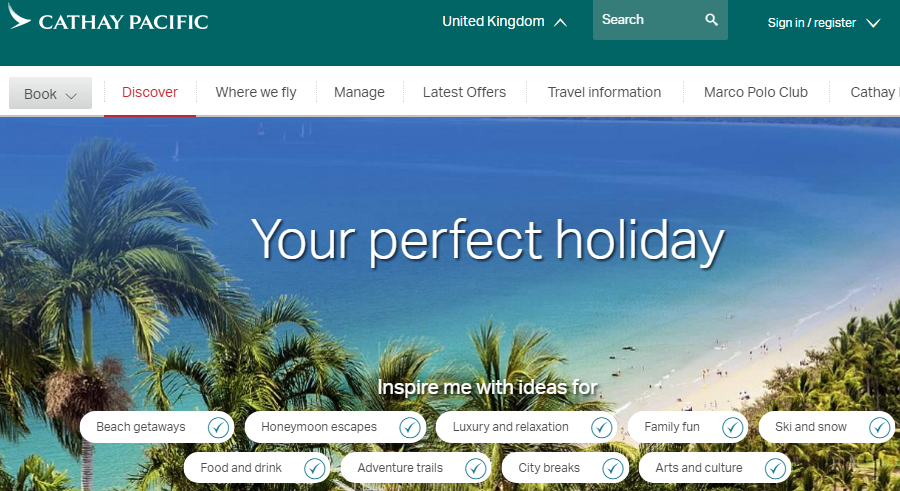 Cathay Pacific – Summer Sale is here!
Hi there,
I hope you are well and enjoying a great week so far!
Cathay Pacific has launched its Summer sale. Featuring a range of destinations including Hong Kong, Thailand, Japan, Korea, Taiwan and Vietnam for selected travel dates up to May 2018 available from London Heathrow, Gatwick and Manchester.
Highlights include return fares in Economy to Hong Kong from £469, Thailand from £519, Vietnam from £549, Japan from £589.
Premium economy starts from £889 return, Business class from £1,999 return.
Offers departing from London:
http://www.cathaypacific.com/cx/en_GB/offers.html#london
Offers departing from Manchester:
http://www.cathaypacific.com/cx/en_GB/offers-from-manchester.html
COMMISSION
1-5 bookings per month 1% CPA
6+ bookings per month 2% CPA
Cashback publishers receive 1% CPA
If you haven't already signed up to the Cathay Pacific programme, you can do so here
Please get in touch to discuss promotional opportunities – Sam.Coleman@affiliatefuture.co.uk
Happy promoting!
Kind regards,
Sam Coleman
Affiliate Future/ Cathay Pacific