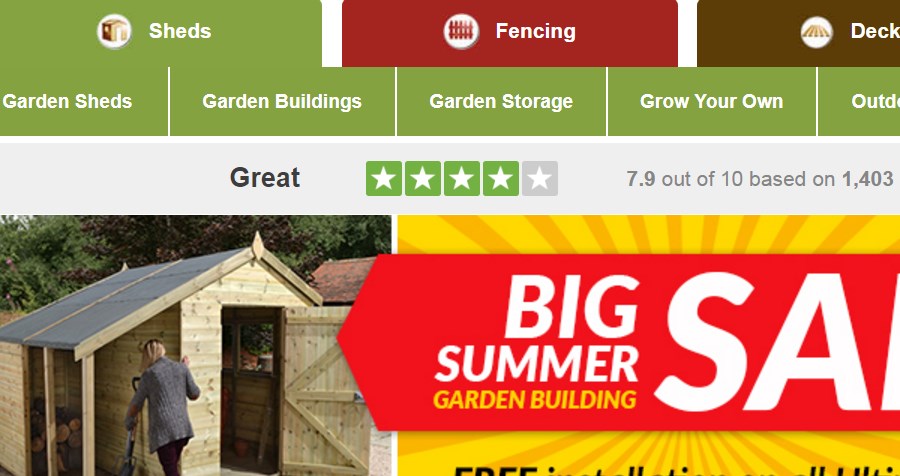 Buy Sheds Direct July: Commission Increase, Vouchers and Offers
Why not join the kids in the garden in your own summerhouse? Or relax on comfortable furniture while you watch them play in their playhouses or even teach them how to grow plants?
Summer is family time – so why not make your garden that bit more family-orientated?
The sun is shining and sales are picking up dramatically so lets see what else we can do to drive sales in the upcoming weeks!
To help you increase your sales we have a number of Vouchers as well as an special commission increase for all cash back sites as a trial run.
Commission Increase
Previous commission: 2% commission
Increased commission for July: 5% base rate, 6%
Cashback publishers please use this programme link
All other publishers please use this programme link and look out for any additional information regards to your own commission changes.
Voucher Codes and Offers
5% off orders over £300 BSD5OFF  ends: 31st August 2017
Summer Buildings Sale – 15% off ends: 31st July 2017
Summer Sale – 30% off ends: 30th September 2017
Free delivery over £100 ends: 31st December 2018
5% off all Champion Heavy Duty Sheds ends: 30th September 2017
Professional installation on 100s of products. ends: 31st December 2020
Two year warranty ends:  31st December 2020
Interest Free Credit  ends: 31st December 2020
Should you have any questions please email: Chloe.smith@affiliatefuture.co.uk