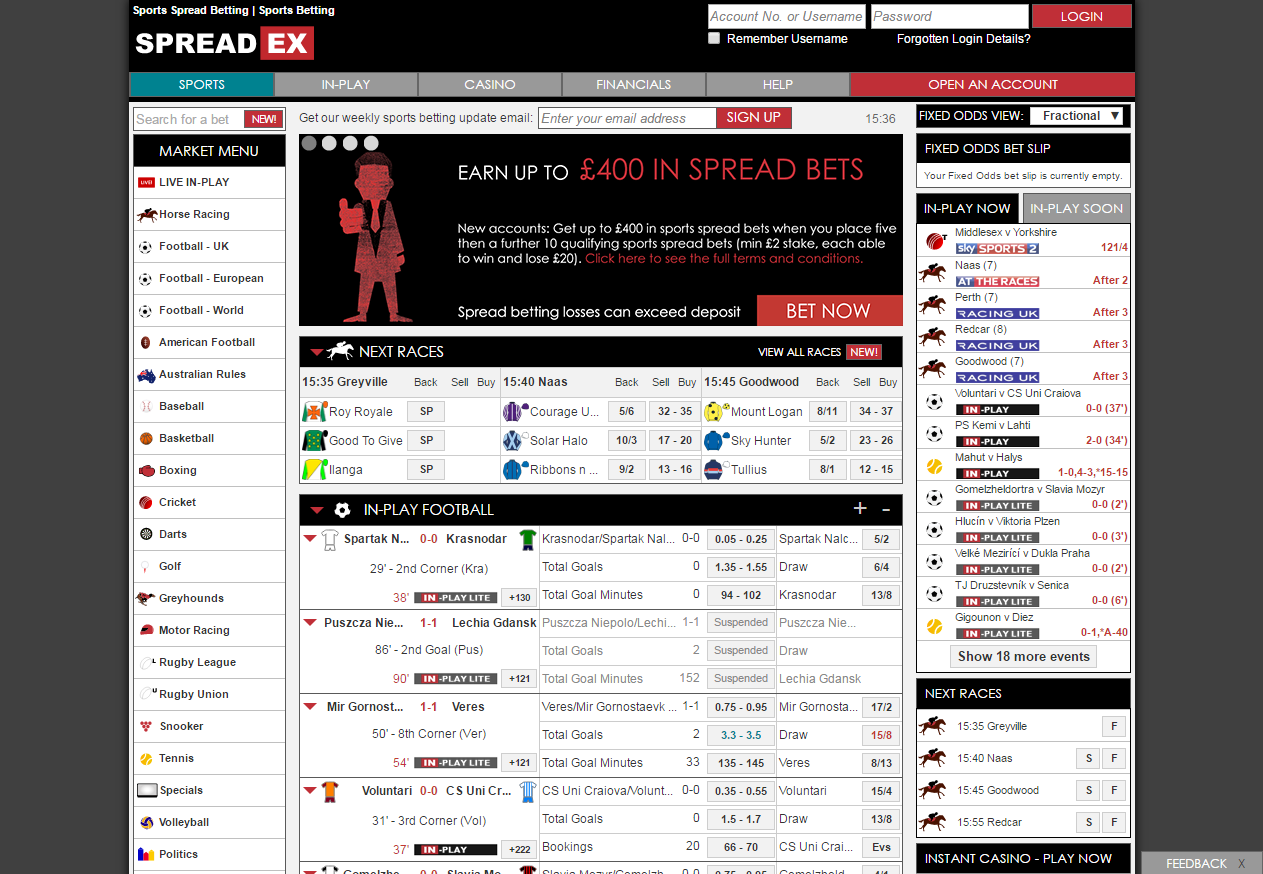 New Advertiser – Spreadex Sports!
Company Description
Spreadex, established in 1999 is a market leading financial and sports spread betting firm.
The company has experienced rapid growth with a 25% increase in turnover between 2015-2016.
Apply to join their affiliate scheme today:
Sports Spread Betting:
– Advanced iOS app and mobile website for other device users
– Highest rated betting firm on Trustpilot
– Credit available to clients (subject to status)
– In-play on all Premier League and La Liga games (plus hundreds more)
– £400 new account offer / or earn an iPad Air
Keywords
Spreadex,spread,ex,betting,gambling,finance,spreadexfinance
Categories
Gaming,gambling,spreadbetting,gaming&gambling
URL
https://www.spreadex.com/sports/en-GB/spread-betting
Programme Details
Non-incentive:
Non-incentive:
Earn £150 for each account that you refer to Spreadex, the leading sports spread betting firm.
Sports spread betting is THE most exciting way to bet on sports events, and Spreadex offers a an award winning service with generous account opening offers to help drive your conversions.
Current offers for new accounts include up to £400 worth of spread bets or an opportunity to earn an iPad Pro or iPad Air 2.
Key Terms:
Account must place 10 spread bets
Bets must be placed within 60 days
General Terms and Conditions:
Spreadex Ltd will only pay the commission if the client has been referred via the tracked links provided to you at the start of the agreement and has been tracked via our tracking systems. If the tracked links has been incorrectly formatted, Spreadex Ltd will not be held liable for any loss of commission. The affiliate has no right to commissions based on cookies that have been overwritten or deleted even if the customer first arrived at your website.
Spreadex Ltd will make every reasonable effort to accurately track and pay commissions for all accounts that are credited to the affiliate. Spreadex is not responsible for technical problems, acts by third parties or other events outside our reasonable control which may temporarily interfere with, disrupt or diminish tracking or service.
No commission will be paid on any account openings by you, your family or friends under the above agreement.
Affiliates agree not to disparage Spreadex Ltd, its products, services or employees. Affiliates understand that disparagement may result in the immediate termination of the agreement with a cancellation of any pending commissions.
Spreadex Ltd reserves the right to exercise its sole discretion as to whether or not to open account facilities for any prospective client.
Spreadex Ltd reserves the right to amend, withdraw or restrict this agreement at any time without notice.
Spreadex Ltd reserves the right to withhold commission when it has reasonable belief there has been co-operation, collusion or organisation of applications from the same source, or if it has reasonable belief that the above offer is being abused in any way.
Spreadex Ltd is the sole arbiter of these rules and any other issue arising under the agreement.
To protect client privacy Spreadex Ltd will not reveal any identifiable customer contact or account information to affiliates. Spreadex Ltd is under no obligation to provide affiliates with specific information regarding its clients.
Join the programme HERE
PPC
We will not accept PPC advertisers.