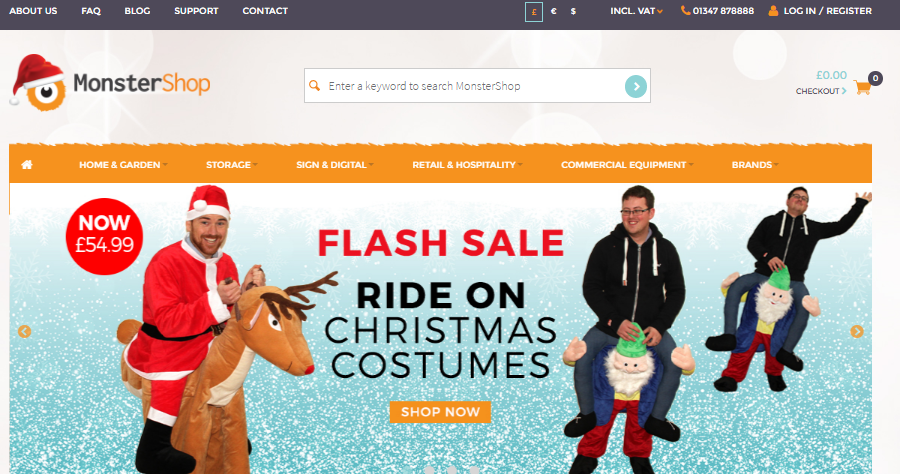 New Advertiser – MonsterShop!
Company Description:
We're an online eCommerce business selling a wide variety of products. Our website packed full of amazing deals and if you compare our prices with our competitors you'll see exactly what we mean. It's not that we don't like our competitors, quite the opposite in fact, we think they're brilliant because they keep us motivated to continue finding new products and better deals that we can pass onto our customers.
Key Words: MonsterShop,Shop,Monster,retail,shops,shopping
Categories: Retail, Home and Garden
URL: https://www.monstershop.co.uk/
Programmes:
MonterShop Affiliate Programme
So straight off the bat you will work on 5% CPA commission! and With a lot of our products being worth over £500 there is a lot of money to be made! The more sales you make us the more we will pay in commission. The structure is as follows….
Monthly Sales   Commission %
£5,001                   7%
£7,001                   8%
£8,501                   9%
£10,001+              10%
Sign up HERE
Voucher Code:
Code: MERRYMONSTERMAS
Get £5 off your MonsterShop order this Christmas
PPC: We do allow you to bid for keywords and we don't mind what ones you do. We do ask that you don't bid for the keyword 'Monstershop' or any variation of this. We also ask that should we be running an exclusive PPC campaign with another affiliate that you cease activity until further notice. With that said we always work to be fair so exclusive PPC campaigns are limited to a set time frame. We also restrict PPC campaigns that target any of our brand name keywords.