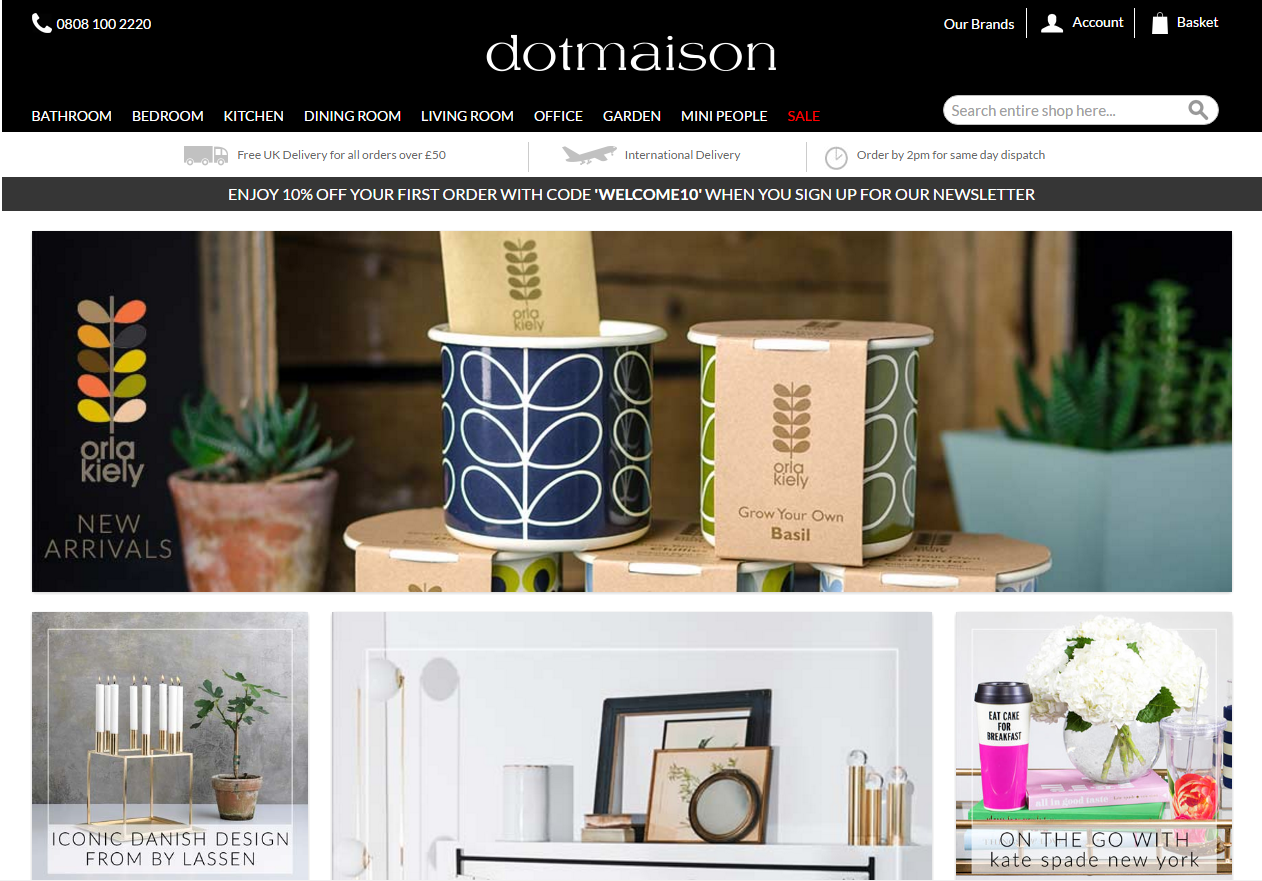 New Advertiser – Dotmaison!
Company Description
Dotmaison.com is an online Interior Homewares Store filled with a unique selection of breathtaking luxury home accessories for every area of your home. We focus on high quality home fashion brands to create an emporium filled with inspiring products, our aim being to help you to bring style and innovation to your home. Our brands include Calvin Klein Home, Hugo Boss Home, Ted Baker Home, Missoni Home, Tommy Hilfiger Home, Orla Kiely and many more. We are particularly renowned for our extensive selection of Luxury Bedding and Bed Linen where our brand list includes, amongst many others, Descamps, Yves Delorme, Alexandre Turpault, Nina Ricci and Olivier Desforges .  In addition we have a passion for Scandanavian Design and through our careful selection of brands such as By Lassen, Kahler,  Normann Copenhagen, Ferm Living , Stelton and Menu we aim to share the best of Scandanavian and Nordic design with you
Keywords
home,house,household,bedding,bedroom,kitchen,dining room,office,garden,dotmaison,lights,design
Categories
homeandgarden,DIY,furniture,garden,home
URL
Programme:
Cashback Programme 
Programme:
CPA – 10% without the use of a discount code
CPA – 6 % with the use of a discount code
Conversion rate – 2%
AOV – £100
Unique visitors per month – 20,000+
This programme tracks all sale with £0.01 and the earned commission will be applied after 30 days period due to our return policy.
Sign up HERE
Voucher & Non-Incentive Publisher Only
CPA
Month sales to £4,500 –  6.00 %
Monthly sales £4,501 to £6,000 – 7.00%
Monthly sales £6,001 and more –  8.00%
Conversion rate – 2%
AOV – £100
Unique visitors per month – 20,000+
Sign up HERE
PPC
Brand Name Bidding restrictions apply to this programme. Affiliates cannot bid on the brand name, derivations or misspellings.